Tuesday, November 29, 2005
This Month's Feature
This month the Blog Alliance is featuring Robert Liparuio's Christian thriller Comes A Horseman. It has been recieving rave reviews and its movie rights have been optioned to Mace Neufeld (producer of Sum of All Fears, Hunt for Red October, Clear and Present Danger, Patriot Games, et. al.).

Lots of buzz going on about it in Hollywood and throughout the publishing industry.

Not bad for a debut novel, eh? So, buckle your seat belts and locate the exit signs because this one looks like it'll give you the ride of your life!

Let us know your thoughts when you read it!

posted by Deeanne at 12:45 PM
Blogger.com
Blogger.com is kinda freaking out today. I will try to recover yesterday's post if I can and tomorrow I will try to post what I had written for this morning. I am at the mercy of the world wide web, but know that I am trying!
Dee
P.S. Our contest ends at midnight on November 30th, so be sure to sign up if you haven't already!
posted by Deeanne at 9:06 AM
Monday, November 28, 2005
Thanksgiving

Oh, that was so much fun! We had a relatively quiet Thanksgiving. I told the kids they could go wherever, whenever, all during vacation so long as they reserved the whole of Thursday for me. So, from morning until night, all my babies were under our roof and it was so very nice.


Our college student was home and we all missed her, so she received lots of extra attention--as you can see! (The middle child isn't mad, she just looks that way because I caught her with her eyes closed. Do you have any idea how hard it is to get a good picture of 4 kids all at once?)

We had our big meal with all the trimmings around 1:00. It was us six plus my parents. Then later in the afternoon, we drove up to see my in-laws and had dessert there. When we pulled back into our the driveway that night I thanked the kids for giving me their day and told them they were officially "released."

All four whipped out cell phones and had plans confirmed before we reached the front door! Ha!

How was your Thanksgiving?

posted by Deeanne at 11:15 AM
Tuesday, November 22, 2005
Distractions

Well, I'm trying hard to work, but there are lots of distractions around the office today. Our daughter arrived home from college last night; I need to order a ham for Thanksgiving; the kids want to know if we are getting all the Christmas decorations out this week; I need to renew my library books and my username isn't logging in; I need to schedule time with the kids to take a Christmas photo; I need to make a run to the grocery store before the crowd gets really bad; I need to start thawing things out and preparing what I can in advance of Thursday; et. al.

Yet, I am determined to put one more day of work in before taking the rest of the week off.

So ... I wish you all a wonderful Thanksgiving holiday and I will see you on Monday!

Blessings.

posted by Deeanne at 11:50 AM
Monday, November 21, 2005
Planning for Disaster

The Christian Emergency Network is strongly advising all citizens to prepare in advance for a global breakout of the avian flu (for which we have no immunizations). They are encouraging us to "to plan now in case authorities call for voluntary or mandatory quarantines for several weeks."

They strongly suggest we keep "extra supplies" on hand, but don't give a suggested list of what extra supplies we should stock up on. Certainly, I can see stocking up on bottled water, batteries, Tylenol, canned goods, that sort of thing. But, I wish I had some expert giving me specifics. A list I could take to the store and buy.

I saw that the government has issued some health and safety tips for families, but the instructions for how to actually prepare were pretty vague. CEN is offering kits for sale, but that would be for keeping in the trunk of your car. Not preparing for a flu break out of epidemic proportions.

So, what do you think? What would you put on your shopping list? Are you planning on preparing for this?

posted by Deeanne at 9:32 AM
Friday, November 18, 2005
Favorite Movie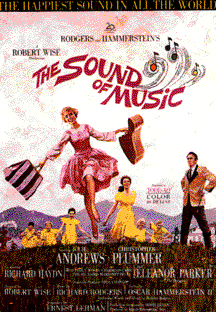 I wanted to be a movie star when I grew up. Didn't happen. But, my love for movies has never dwindled. I love all kinds. My all time favorite is The Sound of Music. After that, I'm all over the place.

I loved the movie they made of To Kill a Mockingbird with Gregory Peck. Speaking of Gregory Peck, I also loved Roman Holiday. Witness with Harrison Ford is another one that ranks up there with the best of 'em.

Disney has put out some great ones and some horrid ones. I count Beauty and the Beast, Jungle Book and Snow White as among the best. I enjoyed the remake of Parent Trap.

I like films set in historical periods. The Three Musketeers, The Count of Monte Cristo, The Man in the Iron Mask. Of course, the film versions of the classics are fun (though the books are better): Emma, Taming of the Shrew, etc.

I always enjoy a film rich in humor. I loved the original Miss Congeniality. About A Boy was a wonderfully funny film with a rather dramatic plot interwoven within it, making it a great film experience.

Time travels are great because I get both my historical fix and my contemporary fix. My favorites are Frequency (if you haven't watched it, rent it. It is GREAT.) and Kate and Leopold.

I enjoy many of the comic book stories that have been made into movies. Batman the Beginning was incredible. I also loved X-Man.

I have faithfully watched all the Star Wars and Lord of the Rings movies more than once and enjoy those as well. I'm always up for an action/adventure. I hate horror or anything that has to do with spiritual demons, witches, etc.

I could go on and on (E.T., Bye Bye Birdie (the one with Vanessa), James Bond, etc.), but I'll give you a turn. Which are your favorites?

P.S. I saw today that a remake of Yours, Mine and Ours is coming out Thanksgiving with Dennis Quaid! The trailer looks a bit on the slapstick side. So, I'm a little nervous, but love the book (Who Ate the Drumstick?) and the orginal movie with Fonda & Ball enough to give it a try.

posted by Deeanne at 9:44 AM
Thursday, November 17, 2005
Favorite Flavors

Okay, I'm trying to stretch this "favorites" thing out for the rest of the week, so the pickin's are starting to get a little thin. I know what I want to talk about tomorrow, but today ... well, all I could think about was my favorite kind of coffee.

I know. Silly. Still ... my coffee is very important to me. At the moment, I'm a "grande, decaf, non-fat, peppermint mocha with whip" girl. Although, I'm also quite fond of the gingerbread lattes.

What about you? Do you have a favor flavor of coffee? ice cream? whatever?

posted by Deeanne at 10:35 AM
Wednesday, November 16, 2005
Favorite Song

Okay. Today we are going to see what everybody's favorite song is. I know these are hard to narrow down. If I had to pick one song that never fails to resonate with me, it would be "Shackles" by MaryMary. But then, God Bless America gets me right in the gut everytime, too. As does The Battle Hymn of the Republic. As does Amazing Grace and any number of hymns.

Now, if we're goin' dancin', well, Shackles would still work. After that, I love swing, jitterbug, and ... yes ... even disco. I'm of the disco era and I must confess that the Bee Gees do it for me.

Did I mention I'm a Christmas song fanatic? My all time favorite Christmas song is Don't Save It All for Christmas (not sure if that's the official title or not) by Avalon. Ohmygosh. I have such a hard time keeping both hands on the wheel when that song comes on the radio. I always cry when I hear Mary, Did You Know? Other favs are Winter Wonderland and The Christmas Song (chestnuts roasting).

So ... what about you? What are your favorites?

posted by Deeanne at 8:40 AM
Tuesday, November 15, 2005
Romancing the Blog

It was my day to post on Romancing the Blog, which is a group blog site of 30 or so romance authors, romance readers and romance industry professionals. We each take one day a month and post.

Before venturing over there, just remember, this is an extremely secular site. The romance authors run the gamit from "romantica" (a marriage of romance and erotica) to Inspirational (that would be me). So ... enter at your own risk!

We're discussing: What is your favorite first line?


Feel free to post your comments here or there.

To qualify for a free, autographed copy of Bride, click here.

posted by Deeanne at 8:56 AM
Monday, November 14, 2005
What's Your Favorite?

This is going to be "What's Your Favorite" Week. Each day, we are going to take one topic and compare favorites.

Today's topic: What's Your Favorite Fiction Novel?

This is hard to nail down, because I have so many books I love. But if pushed into a corner, I'd go with Harper Lee's To Kill A Mockingbird as my all time favorite book across the board. As far as romance goes, LaVyrle Spencer has penned two that compete for this position on my list:

Years and Morning Glory. Both are secular romances, but are extremely well written and are full of mercy and grace (along with all the other stuff secular novels are filled with). So, if you have to be really careful about your reading material, you might want to pass.

So ... what's your favorite book and why?

posted by Deeanne at 11:21 AM
Friday, November 11, 2005
Balancing Act

I am not a feminist by any stretch of the imagination. I am married to an alpha male and absolutely love him and the fact that I don't have to wear the pants in the family. However ... working full time makes it very difficult to do the "womanly" things that are automatically assigned to me simply because of my gender.

For instance: The laundry, the planning of the menu, the grocery shopping, the cooking, the preparation of lunch boxes, the sweeping, vacuuming, dusting, mopping, scrubbing, changing of linens, washing of windows, washing of walls, the scheduling of the orthodontist, the scheduling of the carpool, the reconciling of the health insurance bills, the planning of vacations, the helping with the homework, the making sure that the kids have their last minute supplies for their school projects, the shopping for the kids clothes, et. al.

Now, I know, some of those duties can be split up amongst the hubby and the children, but who is in charge of making sure said children do their part? I mean, let's just say your husband has a job and your kids go to school and have jobs and you have a job. At lunch time, do the men all go out and discuss what they are going to cook for dinner that night? Do your teens?

And what about those times your husband is going to go out of town? Does he say, "Okay, dear. Here is the menu for while I'm gone. The entrees are all pre-made and in the freezer. The side dishes are listed and will need to be prepared on a daily basis, but all ingredients are bought and in the frig. Here is a schedule of what dads are going to be driving the kids to all their functions and here is the name and number of the person who is going to walk the dogs."

Nope. Not once. Not ever. So, what would you say if you heard someone had hired a maid? And a cook? And an administrative assistant? Would you say something catty like, "Must be nice." Or would you think: Now there's a woman who gets to come home after work and enjoy her family.

Does anyone actually have a maid and a cook and an administrative assistant? Because being a homemaker is a full time job. And any woman who works outside the home and doesn't have this hired help works two fulltime jobs. (I use the words "outside the home" loosely because I work inside the home, but I am writing, not homemaking.)

Do you agree? Thoughts? Am I whining?

posted by Deeanne at 10:29 AM
Thursday, November 10, 2005
Gifts for Men

Hubby's birthday is approaching. None of us have any idea--including him--on what to give him. He's not a handy man, so the hardware store is out. He's already got one of every thing that the sporting store carries. Office supplies don't do it for him. He's not a clothes horse.

What does he like? A clean house. A clean car. A warm meal. Ironed clothes. And a little attention. He also likes for my car to be clean. And the kids' cars to be clean. And the kids' rooms to be clean. And the toilet lids to be down. But somehow, doing all those things and saying, "Happy Birthday, honey! The kids and I washed and vacuumed our cars, we made our beds and put all the toilet lids down!" just doesn't seem right.

So, I figured since we've been on a shopping theme of sorts, I'd come to you for ideas. We've done the "homemade" coupons that he can redeem for "one backrub" or "the completion of one chore of your choosing" but he never cashes them in. We have a yard service, so we don't need anything for that.

So ... what do you get for the man who wants nothing?

posted by Deeanne at 9:38 AM
Wednesday, November 09, 2005
Office Supplies

I'm Deeanne Gist and I love office supplies.

After our discussion yesterday, I was delighted to find I had a sister out there (not to mention any names ... Val ...) that is fascinated with office supplies. ME, TOO!! Every aisle is a treat and the office furniture section is way too tempting for my own good.

One of our "lurkers" emailed me yesterday with a picture of her desk (which was a bit messy, but nothing like mine) and told me her secret to a clean desk was in using a small desk. Hmmm. Do I smell a trip to the office supply store??

I don't know if I could say for sure what my favorite aisle is. That's like asking what my favorite ice cream flavor is. They're all good! But I will confess to being a post-it note fanatic. I have them in all shapes, all sizes and, subsequently, stuck to every possible surface in my office.

Last spring I discovered the "Pop Up Note Dispenser." Have you seen it? You put your post it note pad in it and the end of the note sticks up (kinda like a kleenex). You pull it out of your dispenser and *wal-lah* another one pops up.

Ohmygosh. It's the next best thing to pre-cut scotch tape that you strap to your wrist. (That, too, is one of my wicked pleasures.)

So, what about you? Your favorite aisle? Favorite item? And here's the big indicator ... do you list specific office supplies on your Christmas list?

posted by Deeanne at 8:25 AM
Tuesday, November 08, 2005
Clutter

My desk is a mess. I try to keep it clean, but I just can't seem to manage it. So, every once in a while I'll make piles. I name them "Urgent," "Important," and "Everything Else." Then I add to those until they start to topple over.

Finally, I sit down and go through my piles. I complete whatever task is required to get rid of the piece of paper in the pile. If I need to make a phone call, I make a phone call. If I need to write a letter, I write a letter. If I need to look up some information, I look up some information. Then, I either throw the piece of paper away or file it in its proper place until all the piles are gone.

It usually takes a good two days to get through my piles. The problem is, I'm at that point where the piles are toppling, but I don't have two days to devote to sorting through them. (I'd take a picture of my desk and upload it for you, but that task would have to go in one of my "to do" piles because my teen borrowed my camera and didn't put it back.)

What kind of desk do you have? The clean kind or the sloppy kind? What are your strategies for getting the administrative tasks in your life done?

posted by Deeanne at 9:30 AM
Monday, November 07, 2005
Hometown Feeling

There is a group of four retired men that park themselves at the front table of my Starbucks cafe every morning. They greet all who enter and no one can "pass go" without stopping for a chit chat. I told my husband that if we lived in the olden days, these men would be the ones that sat on the front porch of the mercantile whittling and playing checkers.

If I miss a day, they want to know where I was. If I'm early, they want to know what I'm doing there so soon. If I'm late, they want to know why I slept in. If I'm in my gym clothes, they want to know if I'm coming or going to the gym. But most of all, they want to know how I'm doing. And it takes this big ol' urban metropolis and gives it a hometown feeling.

They offer words of encouragement and I can always depend upon them for a smile. They weren't there today. And I cannot believe how disappointed I was. I will fuss at them tomorrow. How dare they go out for a game of golf (or whatever) when they knew I would be wanting a friendly "howdy" and "how the heck are ya" to start off my day. ;-)

P.S. If you haven't entered our contest, it's not too late.

posted by Deeanne at 11:44 AM
Friday, November 04, 2005
Christmas Decorating

I listened to my favorite Christmas album this morning. Is it too early for that, do you think? Probably, but I so love the Christmas season. For years I went all out with my decorations and transformed the house into a winter wonderland with all the trimmings.

But lately, I've been so tired that I have only decorated one tree (instead of two) and hung the stockings and that's it. Because as much as I enjoy the decorations, I abhor putting them away at the end of the season.

The kids are bigger now and would rather do without then be asked to help. I've secretly been thinking of hiring someone to put the decorations up and take them down. I mean, if I trained them on how I do it this one year, then I could simply hire them every year after that and I'd be set. But somehow, that just doesn't seem right, you know?

What do you do? Do you go all out? How do you "keep the joy" when it's time to put it all away?

posted by Deeanne at 10:23 AM
Thursday, November 03, 2005
Prayer Request

I would very much appreciate it if you would keep this situation in your prayers. We do not know this family personally, but have friends and loved ones who attend this church and who were at the sanctuary this past Sunday during the tragedy.

I know and believe with all my heart that our God is good and kind and loving. I also know He is by our side when we walk through valleys. I love that poem "Footsteps in the Sand," don't you?



Footsteps In The Sand

One night a man had a dream.

He dreamed he was walking along the beach with the LORD.

Across the sky flashed scenes from his life.

For each scene, he noticed two sets of footprints in the sand:

one belonging to him, and the other to the LORD.

When the last scene of his life flashed before him

he looked back, at the footprints in the sand.

He noticed that many times along the path of his life

there was only one set of footprints.

He also noticed that it happened at the very lowest and saddest times of his life.

This really bothered him and he questioned the LORD about it:

"LORD, you said that once I decided to follow you,

you'd walk with me all the way.

But I have noticed that during the most troublesome times in my life

there is only one set of footprints.

I don't understand why when I needed you most you would leave me.

"The LORD replied:

"My son, My precious child, I love you and I would never leave you,

During your times of trial and suffering,

when you see only one set of footprints,

it was then that I carried you."

Author unknown

posted by Deeanne at 10:36 AM
Wednesday, November 02, 2005
Saver and Spender

My husband's a saver; I'm a spender. Don't know why. That's just the way it is. So last evening I felt really convicted about flippantly saying he was "going to kill me" when he received the bill for the glasses I purchased. (see yesterday's post)

Now I will confess, that early in our marriage I would skim money off the top of the bank account. I'd buy a dress without telling him, then hang it in my closet for several weeks. I would finally decide to wear it. He would ask where it came from and my reply would be "This old thing? It's been in the closet for ages!"

Well, let me tell you. That dress or pair of shoes or necklace or manicure or whatever it was, was simply not worth it. Because every time I did it, I was undermining the very trust upon which our marriage was built.

I will never forget the day he told me he needed (not wanted, needed) me to quit doing stuff like that. He looked me in the eye and said, "Make a commitment to me. Tell me you will never be dishonest in our finances."

My heart started beating so fast I thought surely it would come right out of my chest, because I knew. I knew that it was better to make no vow at all, then to make a vow and break it. I also knew that the relationship I had with him was the most important relationship I had, next to the one I had with God.

So, I vowed from that day forward to be honest with our finances. And that pair of glasses was no exception. I never, ever would have bought them if I thought it would anger him or that he would begrudge me the purchase. When he asked how my day went, I told him what I did and how much they cost.

Make no mistake, he was shocked. He wanted to know why they were so expensive. I made an educated guess, but the truth is, I thought they were overpriced, too. So, then I gave him my rationale: If you took that sum and divided it by 365 days (which is how often I would be wearing them), it made the price much more reasonable. His response?

"We have to buy another pair next year?!"

Only the lens, I reassured him. Only the lens. And only those if my eye-sight continued to decline. He absorbed all this, then picked up his toothbrush and began to brush his teeth. He wasn't angry. He wasn't pouty. He was informed.

If, however, he had asked me to return them, I might have resisted. Might have tried to work something out (no Starbucks for six months--something like that). But when push comes to shove, he's the head of the household. And if he says we can't afford it, then we can't afford it. I would have cancelled my order and picked something else out ... then put them on my birthday list or Christmas list or asked if we could save X amount of dollars each month towards them.

My point is this, girls. Please, please don't deceive your man. We have a long history of deception (read Genesis if you want to know just how far back this trait in our gender goes). And never, ever is it worth it. If it will cause trouble in the relationship, don't buy it.

I wish I knew some good books on how to work a compromise that would be acceptable to both you and your partner (because sometimes we just need that new dress). But I don't know of any. If you do, would you post the title and author?

In the meanwhile, the only book I can recommend you start with is the Bible. And it's pretty clear about this issue: Thou shall not lie.

posted by Deeanne at 7:52 AM
Tuesday, November 01, 2005
Six Eyes

My daughter's boyfriend calls me "Six Eyes." The reason? Because not only is my memory going, but so is my eye sight. So, I picked up a pair of readers from the drug store. After a while, I needed to increase the strength. Again ... and again ... and again.

Eventually, my computer screen started to become fuzzy. So did the speedometer on my car (though the officer wasn't too sympathic when I tried to explain). So did the items on the grocery store shelf. So, I started wearing that first pair of readers up on the top of my nose and the 200-strength readers on the bottom of my nose (thus the "six eyes" thing).

I've been living like that since last spring. I FINALLY had a break in my schedule and went to the eye doctor. Diagnosis: My vision cannot be corrected with contacts. I *have* to wear glasses.

Have I mentioned I'm a bit on the vain side? A bit of a prima dona? Well, I am. I don't like wrinkles. I don't like gray hair. I don't like losing my memory. And I definitely don't want to wear glasses. But, it is either that or be "six eyes" for the rest of my life.

So, I did what every good female in a crisis does. I called my mom. She is coming over at any moment to help me pick out glasses and then go to lunch with me. We have decided to make a festive event of it. I'm all dressed up and so looking forward to spending the afternoon together that I keep glancing at the clock to see when she will arrive.

You know what? I ought to go out with my mom more often. Oh! There she is! Gotta go!

posted by Deeanne at 9:59 AM
Archives